About - Dethskulpt - But First, A Short Story About A Cat Named Mort
There's a lot to me, so instead of telling you too much information about me first... I'll share a story about a cat named Mort. I had the opportunity to sculpt and immortalize Mort as a gift from a client to his friend... (the owner of Mort).
Here's his story...
Mort Weinberg aka The Ginger Terror aka Big Red... is the cat who's outlived his 9 lives. He's an 8-year-old rescue ... a New Yorker, a survivor.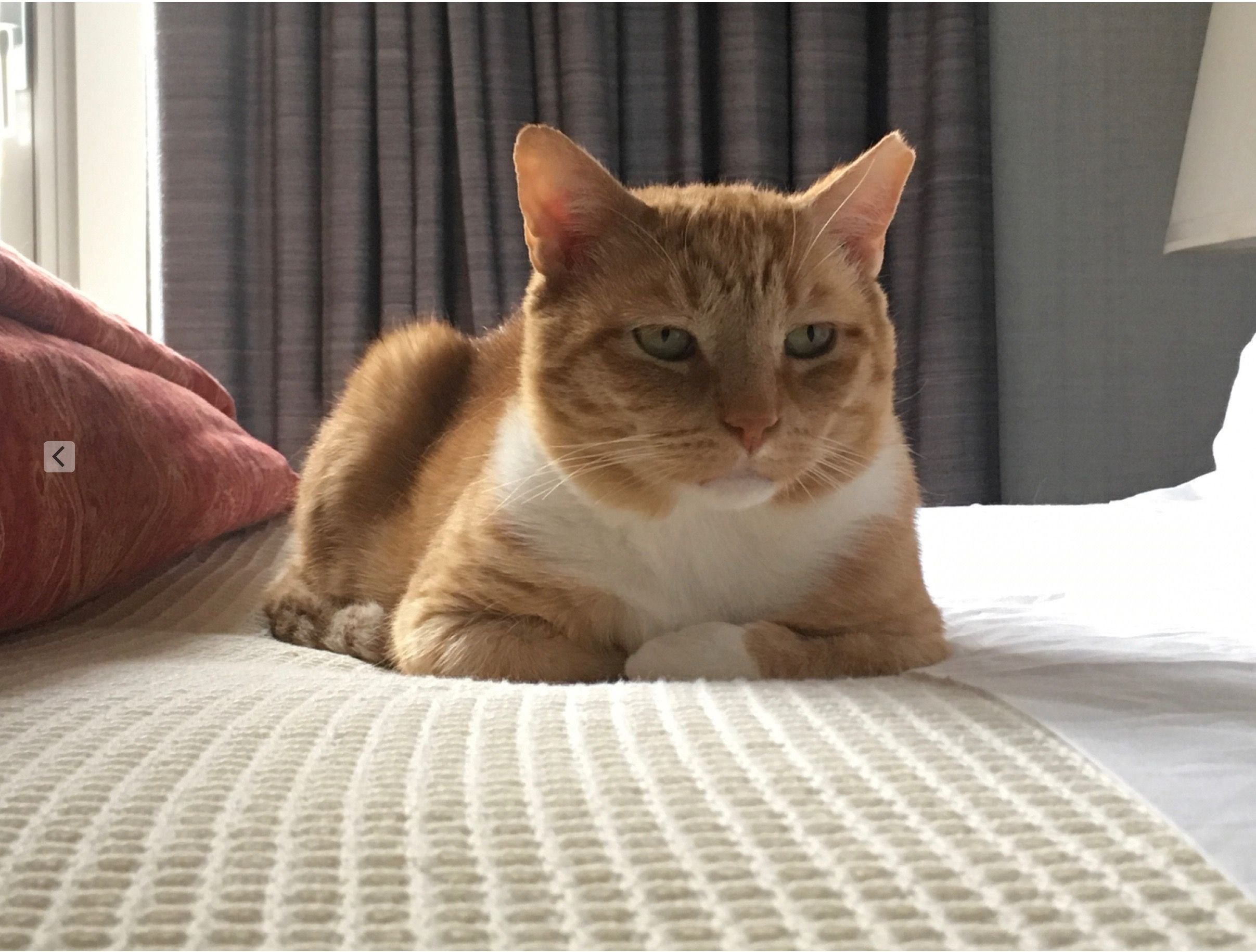 Throughout his life, he's battled many health problems. First, his heart gave him issues, and then his lungs caused to clog by feline AIDS... but he still lives on to see another day.
Being a badass cat comes with it's set of battle scars. He's been in many fights, and one caused him to lose a chunk of his ear. Mort always makes it out alive though. He's old, he's toothy and aggressive.
But, even though Mort is broken and beaten down, he's still got a soft spot for the ones he loves. His owner loves this cat.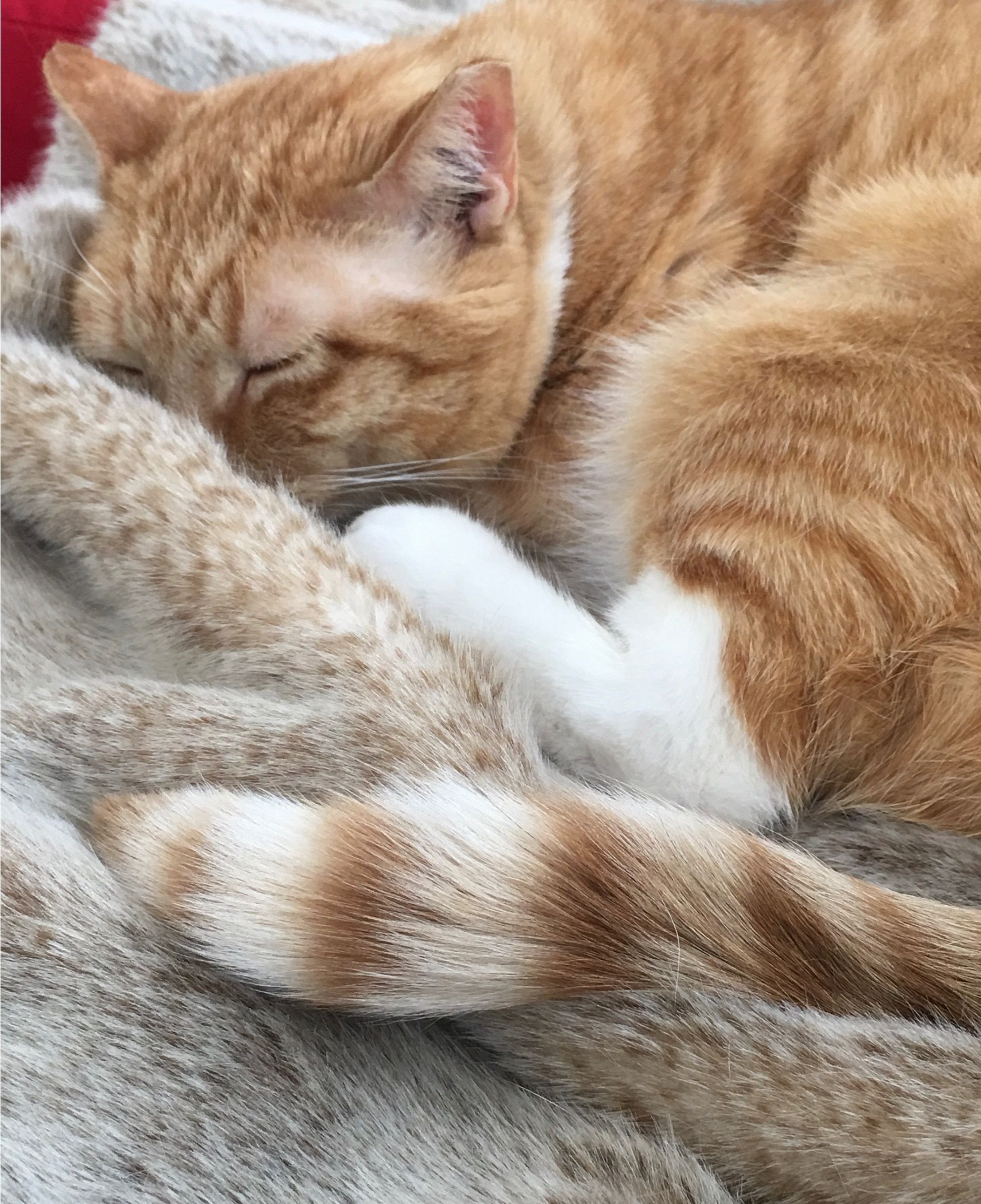 It's was a honor to immortalize you mort.
Progress shots:
So I decided to go with a cat that resembled the lucky cat statues from Japan. His tail was incorporated as the handle which ended up working well. I also only did half his body so no legs, as if he was maybe leaning on a ledge.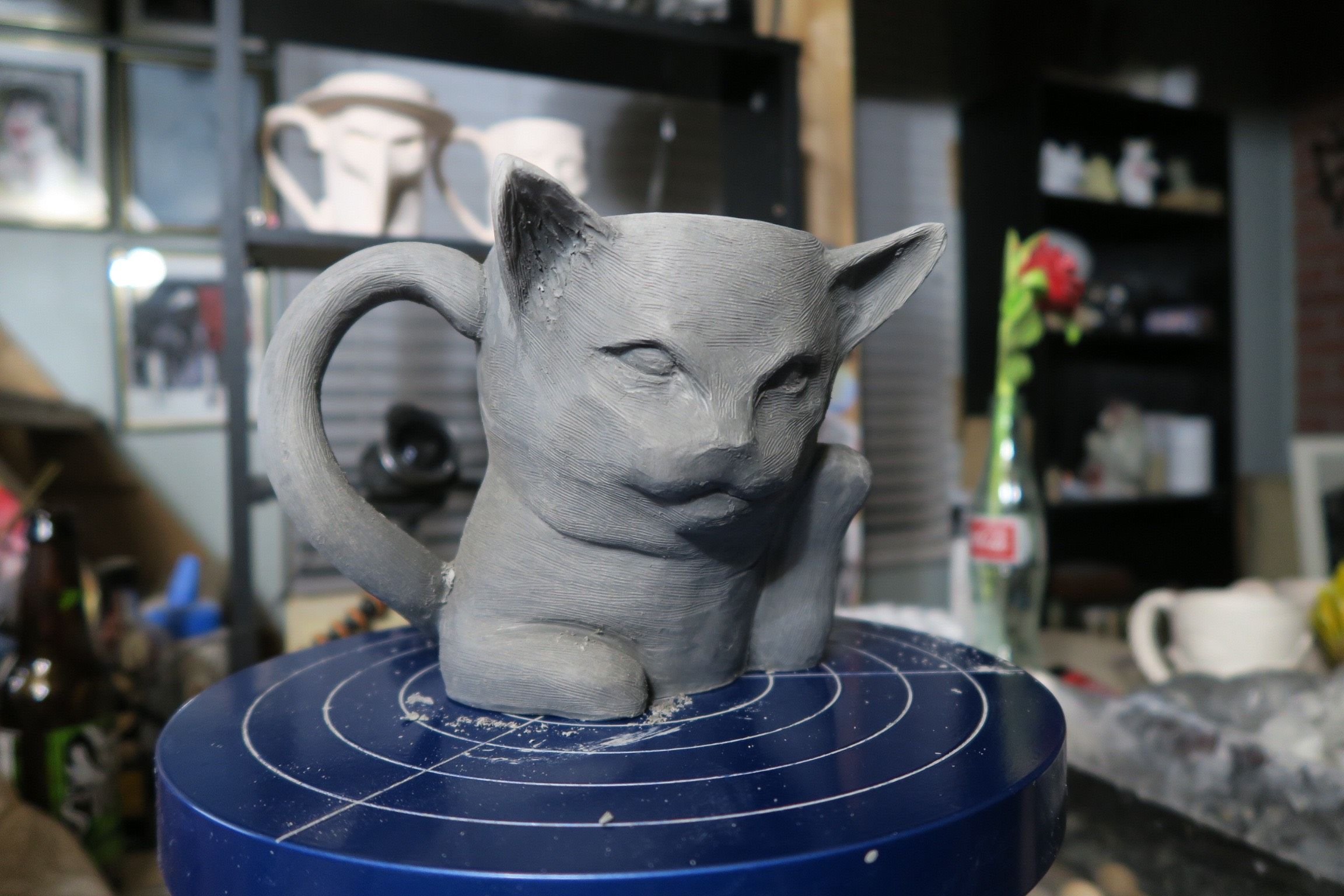 The third eye is sort of something I do put in a lot of drawings and sculptures, but not always. Understanding how Mort lived his life though it suited him well.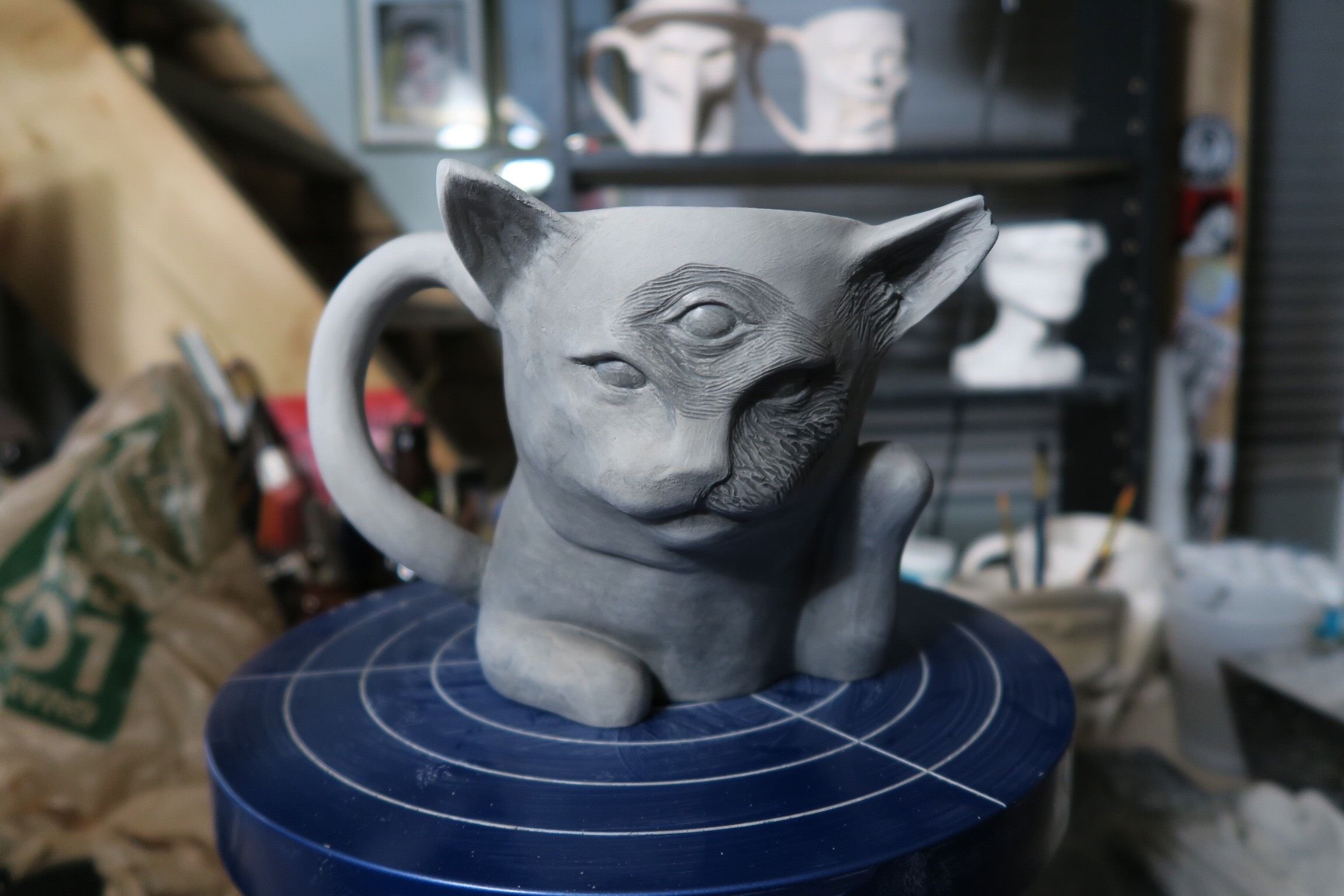 The chipped ear was also something I thought would work well with cracks. I made the front crack go down his face and just pass his heart because of his will to survive no matter what. I guess there's a little bit of symbolism but very subtle.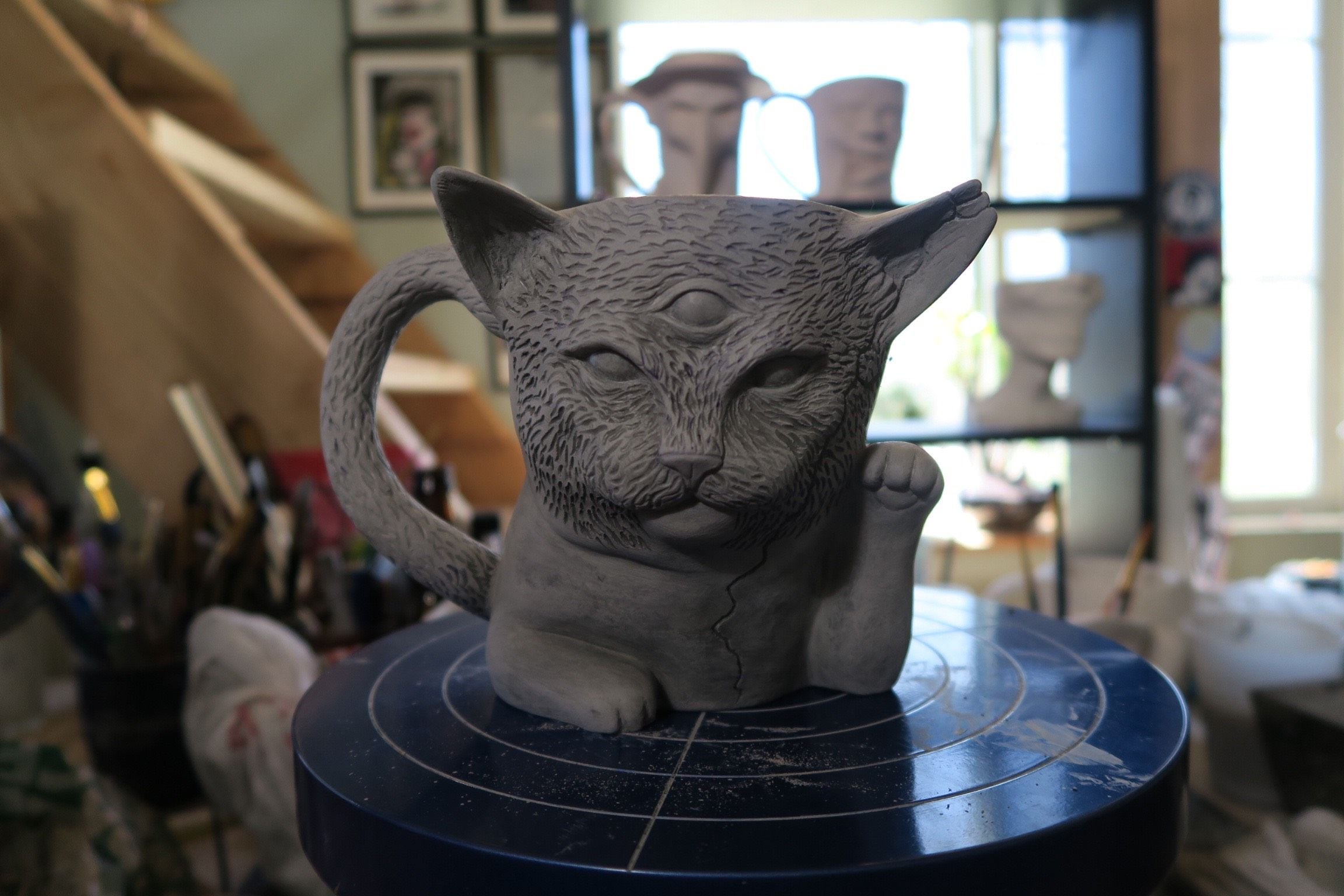 I only decided to do the hair detail on his face to not really take too much attention from the cracks and the arms looked cute with no lines.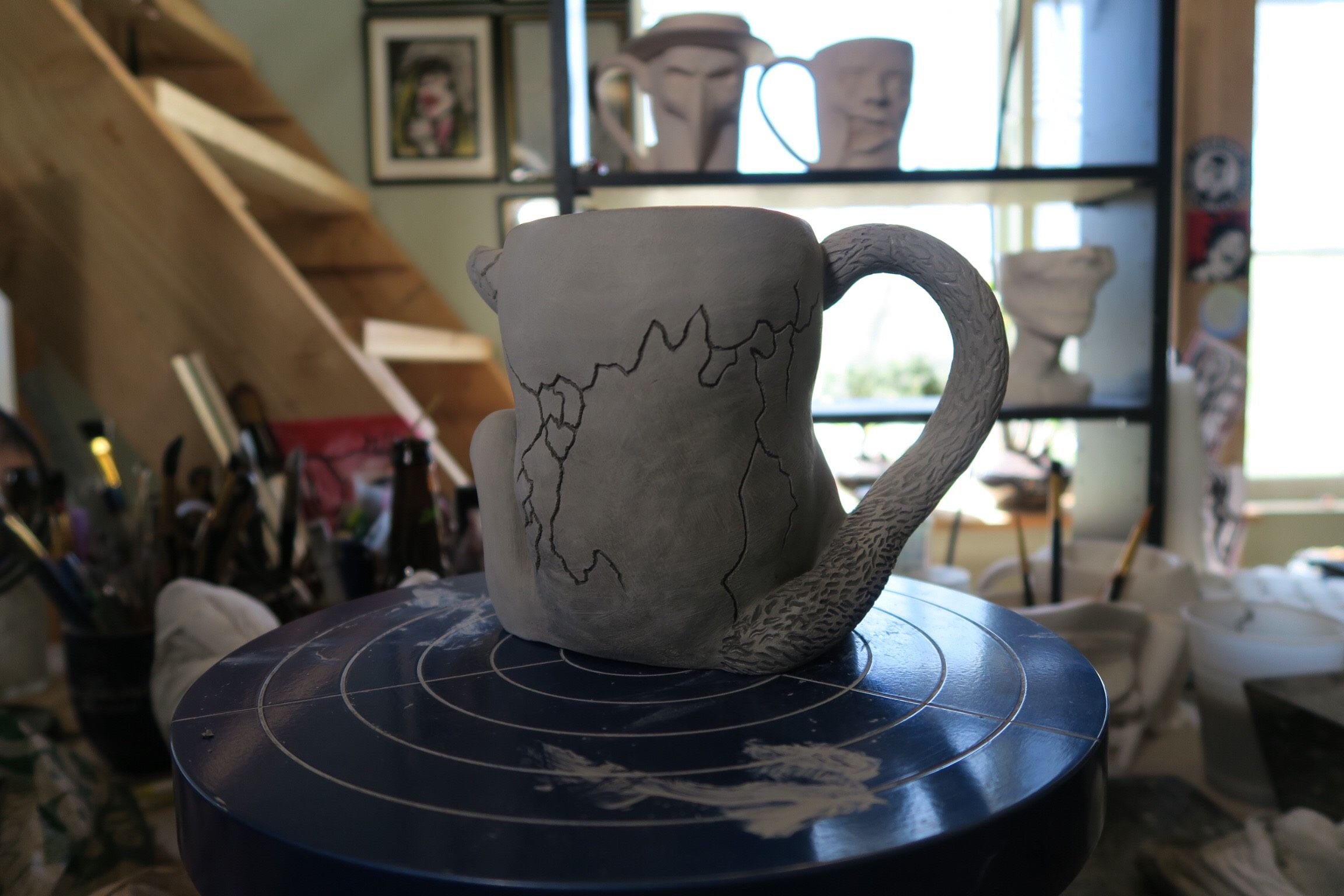 Another thing I decided to add in the cracks was his name etched into it. M O R T on his back.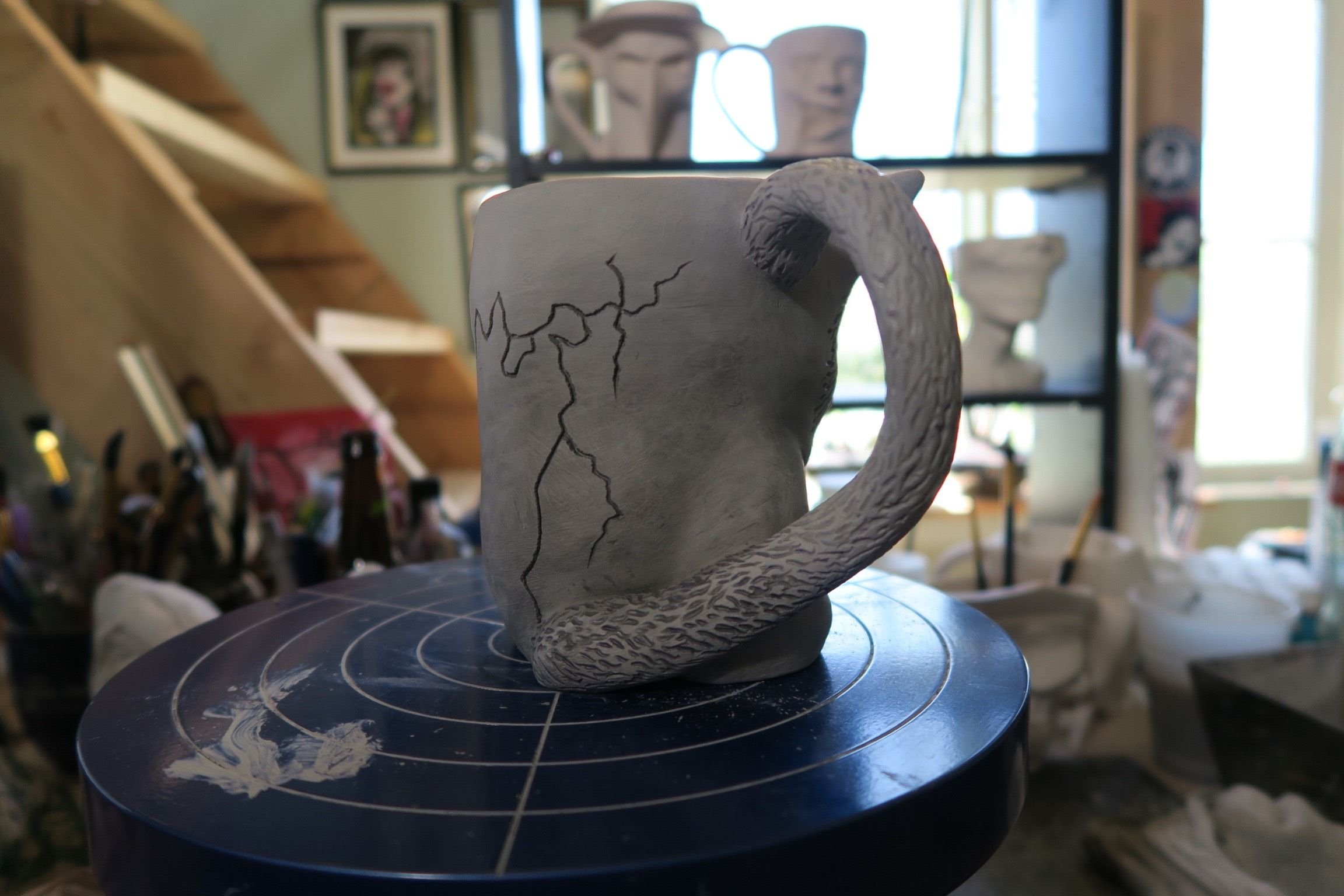 Full turn around before being fired in the kiln.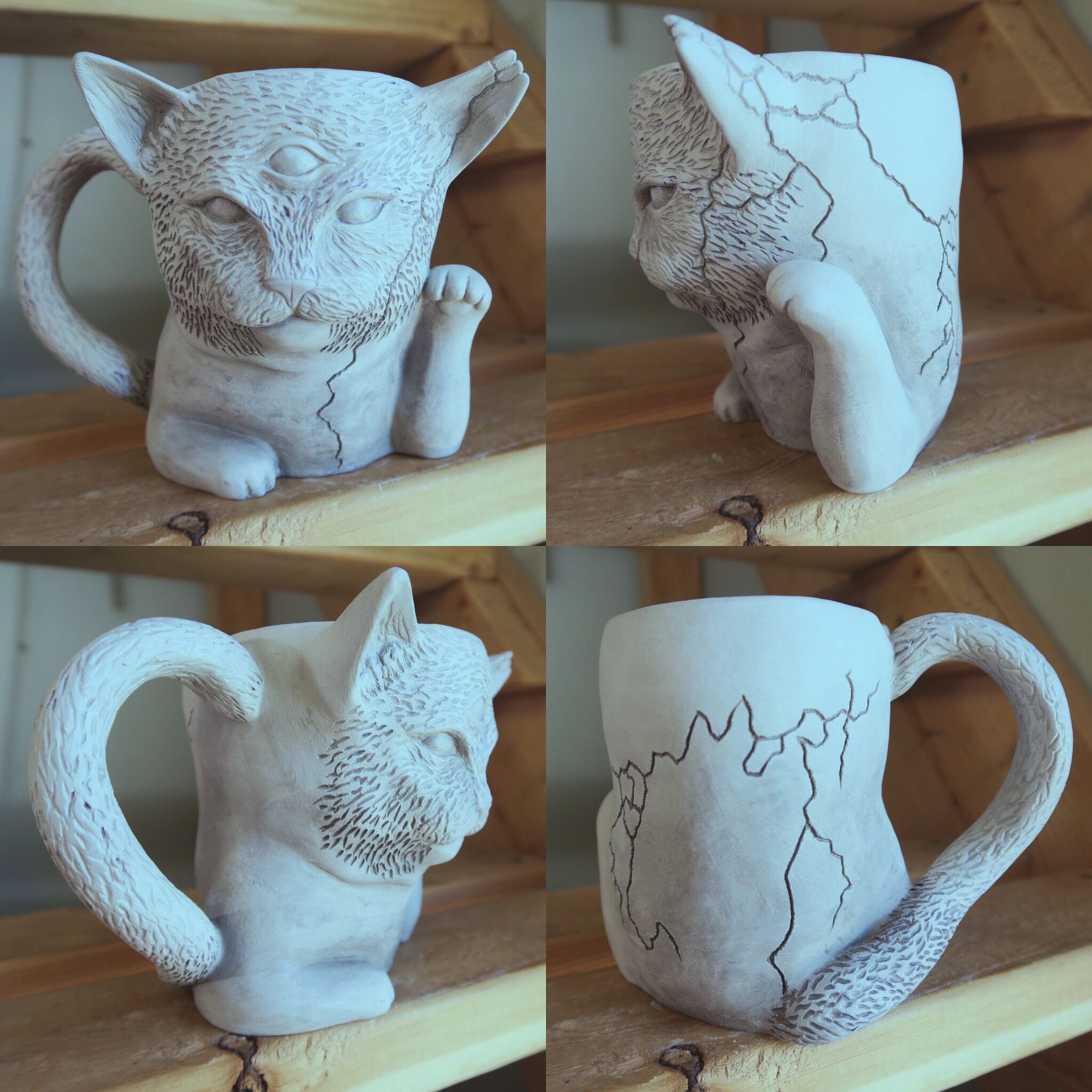 So, with the paint I really didn't intend on it looking this good but it worked out well. I just ended up using his actual color scheme. I did also not intend on having blackened eyes, but also another bit of symbolism... sometimes we can be blinded by struggle, but if we stay focused and keep our mind right our third eye will guide us to survive.
Close up's, final glazed look. Glossy eyes really made it pop.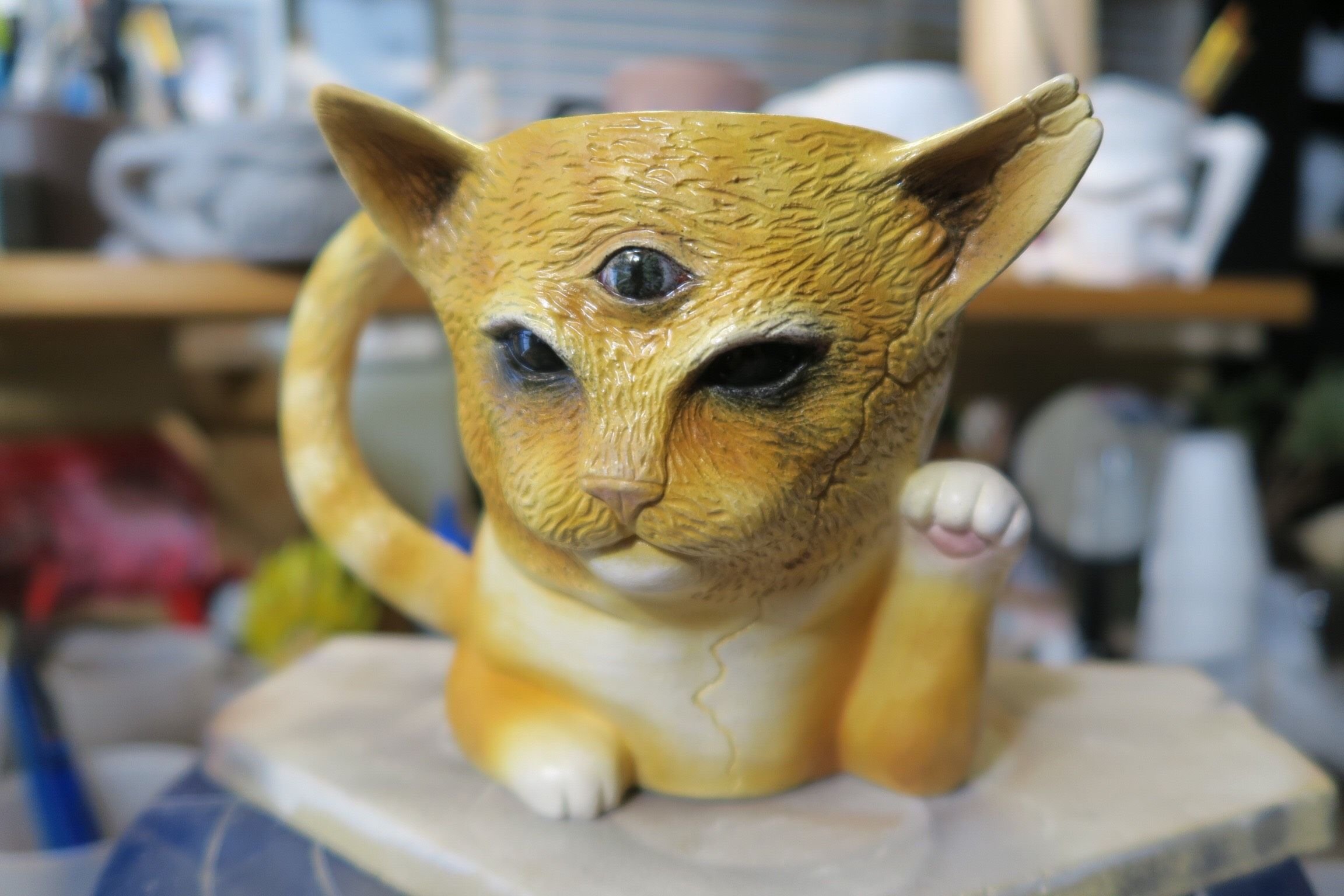 <3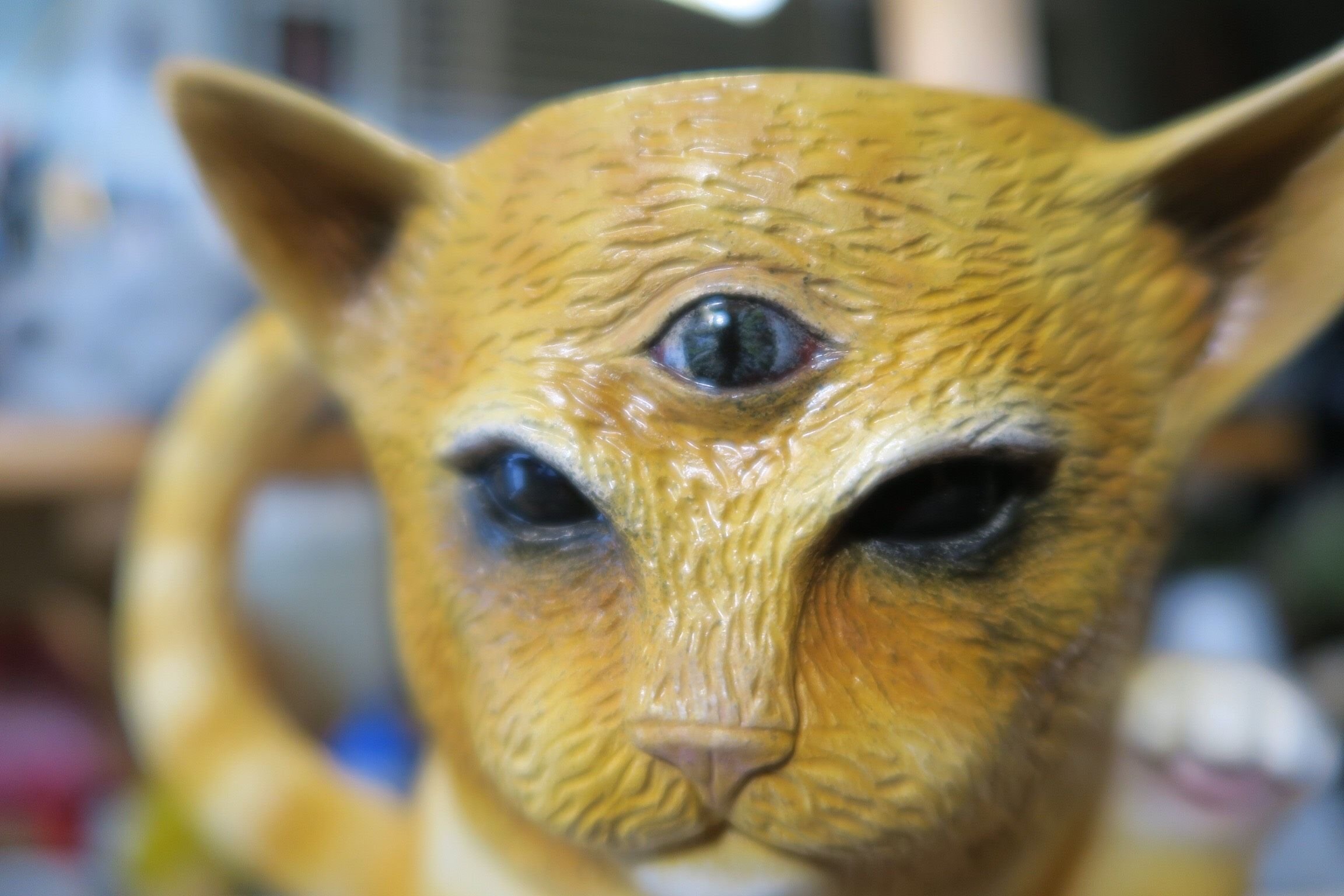 Now... Who am I? Well, I'm Dethskulpt. I'm 28. I'm a complex person, but I like to keep things simple. I've been working as an artist for about 6 years now. I have an extensive resume full of work I've done for Disney. I left Disney to be with family and help them about 3 years ago. They used to live in Compton, CA, and schools just weren't good out there for my little brother. Fast track to me moving out to Temecula, CA with them. I started streaming on twitch by accident and I've been doing that ever since. Sometimes streaming to hundreds of people at a time. It's a great feeling, but sometimes I feel so alone. Having struggled a lot in my life, I tend to use pain as the main inspiration. I wanted a sense of direction though... I was all over the place with art...drawing, painting, sculpting... I almost gave up about 3 months ago. One day though I randomly sculpted a coffee mug with a face, and I realized I found my purpose. There's something about owning something valuable that's functional that makes me happy. The fact that I can make something usable and beautiful makes me feel like what I'm doing isn't a waste of time and money for me or the consumer.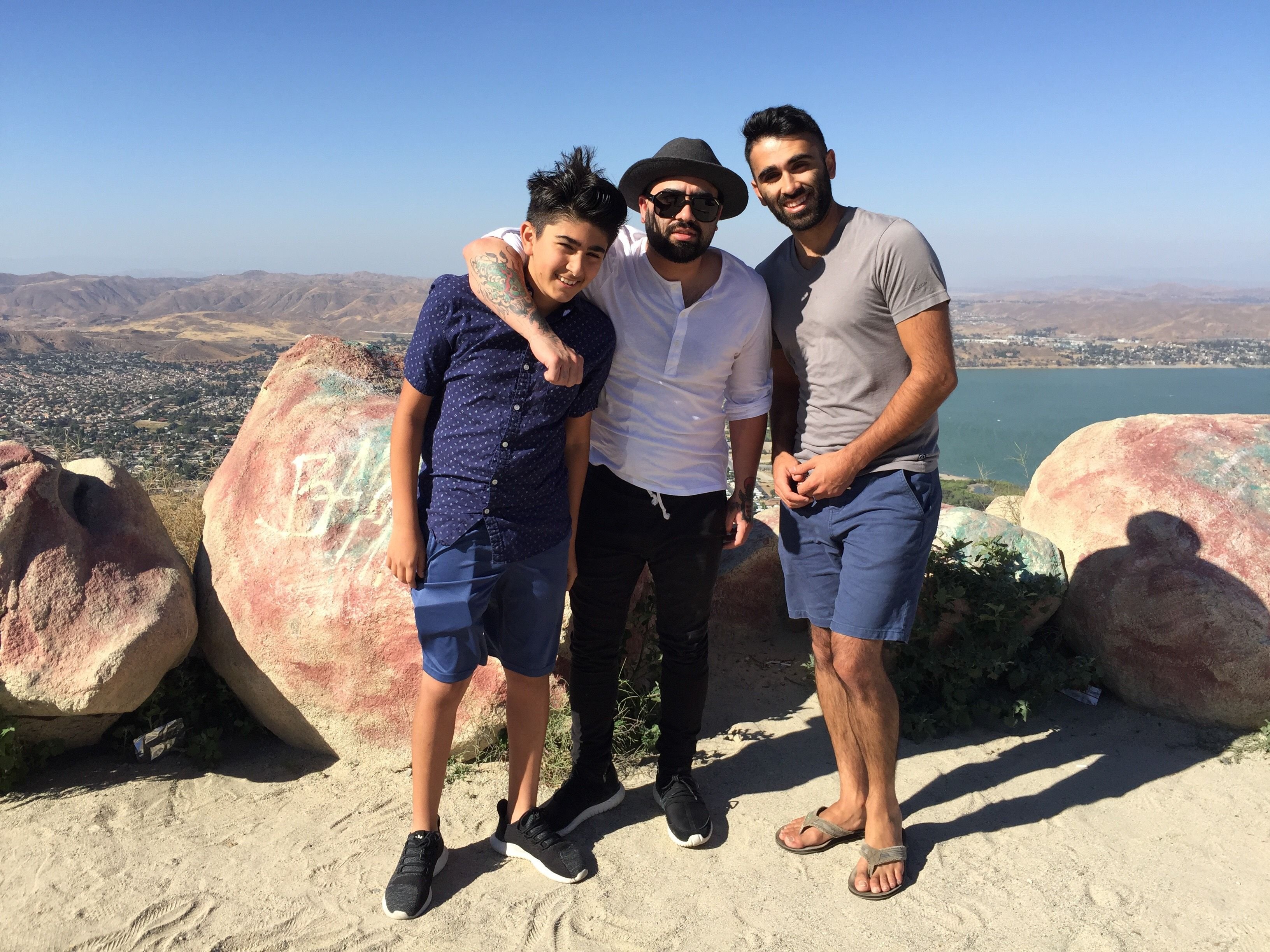 (I'm in the middle.)
Anyways. This isn't the last post, so you'll find out more about me. Feel free to ask me any questions you'd like to know. Hope you enjoyed the little story. Keep on keepin' on.
-Deth
Share this